Looking for a venue for your engagement party?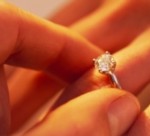 Congratulations on your engagement! Now it's time to find the perfect venue to make sure it is a night to be remembered.
Before selecting the venue, there are three major factors to consider:
1) How many guests will be invited?
2) What type of venue are you looking for? A bar, pub, classy lounge, courtyard style?
3) What is your estimated budget? This should include beverages, food & maybe even a DJ?
We can help you find the perfect function room and our service is 100% free. Just simply fill in your engagement party requirements and we can send you a personally tailored list of venues to suit all of your requirements.

Hi, I found your service to be excellent. Venues contacted me quite soon after the application was submitted and there was such a  wide variety. I was very impressed, and will definitely utilise the service should i have another function to organise.
Cheers, Lauren C.
We went with one of the Richmond venues that you recommended. Thanks so much. Your help was invaluable and saved me a world of time.
Kind regards, Storm C
Thank u for your help with the venues. The party help website is a great idea, as I actually found it difficult to research for Engagement venues on the internet. I will be recommending it to others in the future.
Cheers, Erin H.
What a fantastic service you offer, truly great thanks a lot for your help!
cheers, Brenton C.