Engagement parties can be quite an awkward social experience for some. People can form opinions within minutes of meeting you and can take years to change.
But with a mixture of friends and two families it can be hard to encourage people to mingle and to break away from groups they feel comfortable with.
Here are a few tips or suggestions that could speed up the introductions.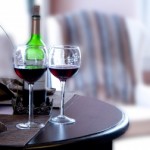 Alcohol. This can be a bit of a double-edged sword at parties. While it may help some people come out of their shell a bit, it could get out of hand as the night wears on. A bad situation at your engagement party could turn into a major catastrophe at your wedding! So be sure to provide plenty of non-alcoholic drinks such as water and soft drink.
Photo Board. A photo board can be a great talking point, with photos of friends and family. It gives people a chance to engage in a conversation with people they haven't met about the photographs.
Bridal Party Introductions. Why not make early use of your bridal party and get them to introduce people? The bride and groom can often get stuck talking to family for long periods of time so having the bridal party introducing themselves and others can help break the ice.
Games. Games can be another great ice-breaker. Whether it is organising a group game or simply hiring a venue that has a pool table, it can help people ease into conversation and liven up the party for your guests.
Do you have any other great ice-breaking party ideas? Leave a comment below.